Brave Like Gabe: Q&A with Gabriele Grunewald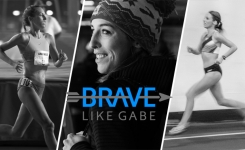 March 28, 2018
I think having that constant reminder of my mortality can be scary and bewildering at times, but other times it can be a great motivator and helps me clarify what's most important in my life.
From AthleteBiz
Gabriele Grunewald is an inspiration. She has raced to titles on the track and roads, and endured, while publicly sharing, the trials of cancer treatment (she is a survivor of adenoid cystic carcinoma, ACC). Her latest project, Brave Like Gabe, is a Foundation she created to support rare cancer research and empower all cancer survivors through physical activity. We caught up with Gabriele to discuss her treatment, her work with Brave Like Gabe, rare cancer research, and of course, her awesome exploits on the track.
AthleteBiz (AB): Please share an update on how you are feeling and your current treatment status.
Gabriele Grunewald (GG): Last July through November I was a patient at Memorial Sloan Kettering in an immunotherapy clinical trial. It didn't work quite as well as my doctor hoped so we added a liver-directed radiation therapy in December at Mayo Clinic here in Minnesota. My latest scan in January showed significant shrinkage in my tumors, which is great! I have been back on immunotherapy since then and we are hoping to see further shrinkage this spring. I will likely remain on immunotherapy long-term if we continue to have good results. I feel really good and don't really have any side effects from immunotherapy.
AB: We all read about how unhealthy eating and exercise habits increases the risk of getting cancer. We also know that cancer risk can be hereditary. Neither of these things apply to your cancer, adenoid cystic carcinoma (ACC). What have you learned about possible causes of ACC?
GG: Yes, there are a lot of different reasons cancer happens in our bodies. For ACC, there are still a lot of question marks and most of the doctors who I've talked to about this would say that my cancer likely stems from a random genetic mutation — one that they may not have even discovered yet. Even though it's not correlated with anything environmental, hereditary, or habits, I do think that staying physically active and eating well will significantly improve my performance status as a patient and hopefully my overall survival.
AB: Your husband Justin is a physician. How helpful has that been as you both have navigated the clinical system and treatments choices?
GG: Justin's knowledge and experience as a doctor has been immensely helpful over the last two years especially, but I think we would both agree that navigating the cancer world as a young adult with a uniquely rare cancer has still been a big challenge. We are getting better at being advocates for my health and realizing the value of connecting with other people in similar situations and learning from them. Having a friend or family medical expert in your corner is a very good thing and can help take some of the burden off the patient. I'm so grateful for Justin!
Continue reading at: athletebiz.us
Donate to Brave Like Gabe Foundation HERE.