Brenda Martinez to Host Big Bear Altitude Training Camp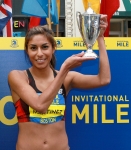 May 17, 2013
Five Riverside and San Bernardino County girls to be part of inaugural camp June 28-30 hosted by top U.S. Miler; "giving back in abundance"
On June 28-30 in Big Bear Lake, California, top U.S. Miler Brenda Martinez (right, PhotoRun) will host a high school girls altitude training camp. Last fall, Martinez, 25, held a contest for Riverside and San Bernardino County area girls, and from submitted letters, she selected one girl to mentor specifically plus an additional four girls to join them at the camp.
"I plan to have seminars teaching the girls about positive thinking, self-image, healthy choices, laws of attraction, injury prevention and more. We will also do some running," said Martinez. "I feel that it's the perfect time to do this camp because they will be getting ready for the upcoming cross country season, and I hope these girls leave my camp enlightened and confident."
Martinez, who trains in Big Bear and is coached by Joe Vigil, is preparing for the USA Outdoor Championships June 20-23 in Des Moines, Iowa where she will race the 1500 meters for a berth on the Moscow World Championships team. In April, she won the B.A.A. Mile and Mt. SAC Relays 1500 (4:04.86, personal record), and last year, Martinez earned titles at the 5th Avenue Mile (4:24.2, a road PR) and the Falmouth Mile (4:26.76 PR, the fastest female 2012 Mile on the track).
For more information, contact Brenda Martinez at: Bmartrun@yahoo.com