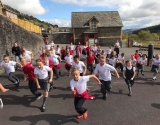 February 15, 2020
The Daily Mile can make a massive difference to children's lives... and can improve the fitness of all children.
By Beth Daley, Editor, The Conversation
Children today spend more time sitting than ever before. And research shows that as they grow up, children tend to become more sedentary and...
Read More
comments