Parents support schools to introduce The Daily Mile for children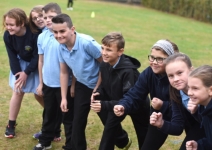 November 22, 2016
"In some schools they are told a daily task to think about whilst they're outside exercising. It improves concentration once they're back in class. Fantastic idea."
By Ipswich Star
Parents and readers online have voiced their support for the Ipswich Star's campaign to get every primary school pupil in the town walking or running a Mile a day.
We're calling for each school to sign up to The Daily Mile initiative to improve the health and fitness of youngsters.
Originally started at a school in Scotland, it involves pupils at primary schools walking, jogging or running a Mile every day, which will improve pupils' fitness and wellbeing, as well as provide added benefits in concentration and focus in the classroom.
And already feedback online has been positive.
Laura Holland, commenting on Facebook, said: "In some schools they are told a daily task to think about whilst they're outside exercising. It improves concentration once they're back in class. Fantastic idea."
Continue reading at: www.ipswitchstar.co.uk