Focus on Childhood Obesity Takes Center Stage at ING KiDS ROCK LA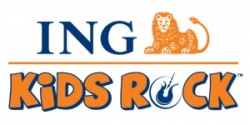 October 24, 2012
1,500 local kids participate in youth fitness program; former Lakers' great AC Green, WNBA legend Ruthie Bolton and Sparky, the LA Sparks mascot, join ESPN's Bonnie Bernstein and celebrity chef Antonia Lofaso to celebrate runners
By ING KiDS ROCK LA
After weeks of training, the finish line is finally in sight. At 9 a.m. on Saturday, Oct. 27, at The Home Depot Center in Carson, Calif., more than 1,500 children in grades K-7 will run the "final Mile" in their race to become ING KiDS ROCK marathoners. This non-competitive, non-timed event is the culmination of a school-based running program designed to tackle childhood obesity through prevention.
"As the official charity of ING KiDS ROCK, the ING Run For Something Better® program is helping get kids on the road to adopting healthier lifestyles through exercise and healthy eating," said Rhonda Mims, president of the ING Foundation and senior vice president, ING U.S. Office of Corporate Responsibility. "This initiative is a fun way for kids to achieve a sense of accomplishment for their discipline leading up to the event, and we hope they continue running for years to come."
Continue reading at: ING U.S.