Bring Back the Mile Launches Tour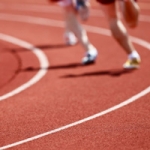 January 31, 2013
By Peter Gambaccini, Runner's World
Bring Back the Mile, the organization with the self-professed goal "to return the mile to prominence on the American sports and cultural landscape by elevating and celebrating the mile," spent its first year focusing on promotion and consciousness-raising. Now, it inaugurates the Bring Back the Mile Tour 2013, a series of 13 track and road races plus a season-ending gala, with the mile at the New Balance Indoor Grand Prix in Boston and the Camel City Indoor Mile at the Hilton Garden Innvitational in Winston-Salem, North Carolina, both on Saturday.
The full schedule for the 2013 tour can be found here.
People of a certain age can remember when the mile was track's premier event. Roger Bannister's first sub-4:00 mile in 1954 is still considered one of the landmark athletic achievements of the 20th century. Every time the mile world record was shattered, it was major news; I recall how much attention Michel Jazy of France got in American papers when he ran 3:53.6 in 1965. Fans could name every mile world record holder after Bannister, a feat that's not getting any more difficult, since Hicham El Guerrouj's record of 3:43.13 was set in 1999, and world-class mile races outside of Eugene, Oregon, and Oslo, Norway, scarcely exist.
Still, the mile may be the only track event in which times, specifically those in the 3:50s for men, mean something to the most casual follower. And outside of the tennis world, has any female athlete in this country gotten as much attention in 2013 as high school miler Mary Cain?
Continue reading at: runnersworld.com