Broadneck alum Centrowitz finishes first in crowded 1500 final at USA Outdoors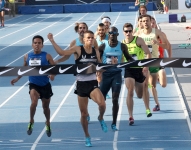 June 23, 2013
2012 Olympian holds off pack for World Championships berth; five others finish within a second
From the Baltimore Sun
Matthew Centrowitz (Broadneck) won a jam-packed 1500 meter final at the USA Outdoor Track & Field Championships on Saturday in Des Moines, Iowa. The 23-year-old from Annapolis won the event in 3 minutes, 45.17 seconds, beating out five other runners by less than a second.
"In my head, I said, 'Dominate the final,' and that's what I set out to do," said Centrowitz (above, PhotoRun.net), who took the lead with less than 70 meters remaining. "I didn't really glance back."
Turning into the final stretch, the first five runners were side-by-side. The lead changed repeatedly among Centrowitz, Leo Manzano, Lopez Lomong, newcomer Matthew Elliott and Will Leer after entering the bell lap.
Centrowitz, who ran for Oregon and took fourth in the 1500 in the 2012 London Olympics, also won the U.S. 1500 title in 2011. It is the sixth title for his family, as his father, Matt Centrowitz Sr., won four 5000 titles in his career.
The 3:45 time was relatively modest for Centrowitz, whose personal best is 3:31.96, and his competition, some of whom said later that they expected the race to play out slowly and for tactical running to play a major role in the outcome.
"Coming into this race, we knew it was going to be slow," Centrowitz said. "I entertained the idea of me being last the first few laps. We didn't have a set plan coming into it. I just waited for everything to unfold. I had a few strategies coming into it."
The second-p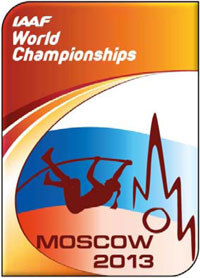 lace finisher, Manzano, who lost by less than two-tenths of a second, agreed.
"It was a great race," said Manzano, who beat Centrowitz for a silver medal in the 2012 Games. "The guys played their tactics just right. I was just a little off and fell a little short. I brought home a second place, which is not too shabby."
Centrowitz will go on to represent the U.S. team with Manzano and Lomong (if they achieve "A" qualifiers by July 20) in the IAAF World Championships in Moscow from Aug. 10 to 17. In 2011, Centrowitz competed at the World Championships in Daegu, Korea earning a bronze medal in the 1500m (the first U.S. men's medal for the distance since 1987).