Brody Smith, Wyoming's best Miler is just beginning to reach his potential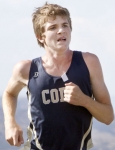 June 17, 2015
More confident than ever after running against the best in the nation, Smith is thinking faster, perhaps 4:03.
By Lew Freedman, Cody Enterprise
Brody Smith is just starting to figure out what he accomplished and what it means.
He is in the middle of a two-week break from running, spending his time riding his bicycle to stretch his legs instead of striding for Miles, and also mowing grass for his mother's lawn-care business.
Smith's next race, at the start of his senior year at Cody High, is not until fall cross-country, but his most recent race, in early June, is one he will remember for a lifetime.
Life's turning points sneak up on you. They are rarely premeditated. Wyoming's finest high school Miler went to bed as one Brody Smith on June 3 and woke up as another Brody Smith on the morning of June 5.
In-between, competing under the lights in St. Louis in Nike's Festival of Miles, Smith ran a Mile time of 4:12.42, passing the 1,600-meter mark in 4:10.40.
Continue reading at: www.codyenterprise.com