Burda on a Winning Streak at The Armory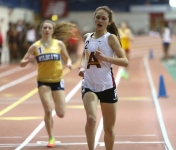 January 13, 2014
Arlington High School junior looks for top performance at New Balance Invitational High School Mile
By Chris Lotsbom, ArmoryTrack.com
NEW YORK - On February 15 at the NYRR Millrose Games, Arlington High School junior Bella Burda will toe the line at The New Balance Track & Field Center at The Armory with one goal in mind: win the New Balance Invitational High School Mile.
Last year, Burda (photo right, John Nepolitan) qualified for the event and finished fourth, less than three seconds behind champion Sabrina Southerland in 4:54.73. Now, nearly twelve months later, Burda is ready to make a claim for the top position.
So far this indoor season, the 2012 Gatorade Girls Cross Country Runner of the Year for New York has been perfect at The Armory's oval. On January 4 at The Hispanic Games, she won the Invitational Mile in 4:58.46, earning a spot on the start line at the NYRR Millrose Games. A week later Burda returned to win the Malloy Stanner Games 3000 meters in 9:55.85, breaking away from Newburgh's Gianna Frontera with a kilometer remaining.
"I didn't run quite as fast as I hoped I would, but it was a good race," Burda told ArmoryTrack.com. "You can't be upset with a win!"
Continue reading at: www.armorytrack.com