Cain's Latest Challenge: USA Outdoors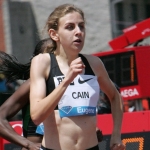 June 19, 2013
Teen Mile phenom to run USA 1500 for ticket to World Championships in Moscow
By Jack Pfeifer, ArmoryTrack.com
All of the American stars converge on Des Moines, Iowa, this week for the USA Outdoor T&F Championships, but despite the presence of dozens of Olympians, medalists and recordholders, all eyes will be on the 17-year-old from Westchester County, Mary Cain.
Cain has taken the country's track scene by storm this year, and she will be at it again, trying to make the national team for this summer's World Championships. Those will be held in Moscow in August.
Her preliminary heat of the 1500 will be held Thursday afternoon, the final two days later. The meet concludes on Sunday. It begins on Wednesday with the first day of the Juniors multi-events.
Cain, who just completed her junior year at Bronxville High School, has already secured the necessary "A" standard in the event, by running 4:04.62 (U.S. high school and Junior record), below the standard of 4:05.50. Now, to make the team, she needs to finish among the top three.
Continue reading at: armorytrack.com