Can a 50-Year-Old Run a 4:20 Mile?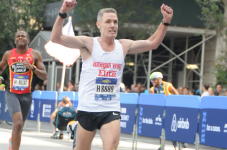 September 25, 2015
Sean Wade ran a 4:02 Mile in 1991. Now he will attempt a 4:20 feat when he hits his milestone birthday in February.
By Marc Bloom, Running Times
Athlete: Sean Wade
Age: 49
Residence: Houston, TX
Career: Coaching
Family: Single, one son
Lifetime PRs:
Mile: 4:02 (1991)
3000-meter steeplechase: 8:35 (1990)
Half-marathon: 1:03:30 (1995)
Marathon: 2:10:59 (1996)
PRs 40 and up:
5K: 14:49 (2009)
10K: 30:11 (2006)
Half-marathon: 1:07:09 (2007)
Marathon: 2:20:30 (2007)
Key Track Workout For the Mile:
• 3 Mile warm-up, light stretching and drills, sprint the straightaways and jog the turns for a Mile
• 12 x 200 meters in 32 seconds, 30 seconds recovery between each
• jog 2 minutes
• 800 meters in 2:04
• use foam roller after cool-down
Can a 50-year-old run a 4:20 Mile? Sean Wade, who at age 30 ran the 1996 Olympic marathon in Atlanta for his native New Zealand, hopes to attempt that feat next February when he turns 50. Wade, who has run and raced nonstop since his world-class days, won the Fifth Avenue Mile 45–49 division in a sensational 4:25 on September 13. Training for the Mile for the first time in his career, Wade, a Houston resident, will run his fourth Mile in five weeks on October 4 when he contests the Navy Mile on Pennsylvania Avenue in Washington, D.C.
Continue reading at: runningtimes.com