Carl Cook: Blowing us all away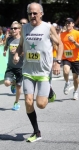 September 30, 2013
Senior Miler clocks 5:43 at Magnificent Mile; "It's just his whole attitude about life that makes him the runner that he is."
By Eddie Wooten, News & Record
GREENSBORO – The second wind in Carl Cook's running career is hurricane-force compared to the first wind for the rest of us.
At age 66, Cook cranks out miles faster than most of the men several years his younger. And he's getting faster.
"At my age, you expect times to be going up," Cook says. "But they're not. They're dropping."
Two weekends ago, Cook won his age group, 65-69, at the Magnificent Mile state championship in Raleigh, finishing in 5 minutes and 43 seconds and wiping out by 25 seconds the USA Track & Field North Carolina record. His time would've placed him fourth in the next two youngest age groups and sixth among two groups of males who haven't even turned 40 yet.
"Now that I've run it," Cook says, "I can even do better."
Not bad for a runner who once gave up the sport, then rediscovered it four years ago when his daughter, Amelia, wanted to run a 5K.
Continue reading at: www.news-record.com