Catching Up with Jim Spivey: Part 2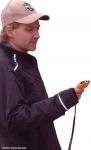 November 15, 2006
1978-84: First Sub-4, First Olympics
He visited Oregon, who, at the time, had Rudy Chapa and Alberto Salazar. On his visit to Eugene in the fall of his senior year, coach Bill Dellinger explained the Ducks' training philosophy, pulled out some charts, pointed to a number and said that's what he thought I could run for 5000 meters. But Jim wasn't sure he wanted to be a 5000 meter runner.
Dellinger asked Jim how many miles a week he ran. "I have no idea," he responded. Dellinger pulled out a sheet of paper and jotted down more numbers while Jim went through a typical training week. Dellinger figured Jim was running about 39 miles a week, on average. "If you get that up to 55, you'll beat Tom Graves, [who went on to attend Auburn]" he said. But Jim, who loved to race, looked at the Ducks' schedule and noted that they raced very sparingly. "If you were healthy, you'd race maybe nine times a year," he said. "I needed to race more than that." Spivey would not be a Duck.
"Eventually," Spivey recalls, "it came down to two schools: Wisconsin and Indiana." Both had good cross country programs, but Indiana had a far better track program, and coming from a high school program that was strong in the fall, but weak in the spring, Jim wanted to go to a program that was good all year long. He seemed to click right away with Hoosier coach Sam Bell and signed with IU.
He arrived in Bloomington in the fall of 1978 and made the transition from high top school runner to top college runner with little difficulty. He managed to stay injury-free despite hiking his average weekly volume from 40 miles to 80-90 miles. In February, 1980, his sophomore year, he traveled to Louisville, KY and became America's 100th sub-4 minute Miler.
That sub-4 came a week after coming agonizingly close to the barrier in Bloomington, clocking 4:00.03 to hold off Steve Lacy. "Coach Bell told me on Monday that I would be running in Louisville, against the great John Walker. He was my hero as a high schooler, running in the all-black uniform, long hair and beads around his neck to win the 1976 Olympic 1500m." Walker was also World record holder for the Mile until just the year before. The Flying Kiwi and Irishman Ray Flynn (who still lives near his alma mater, ETSU) went out hard, and pulled away from the Hoosier with a quarter-mile to go. Spivey closed on the last lap, to draw level with Flynn, but they gave the nod to the Irishman. Both clocked 3:58.9, while Walker won in 3:57.0. Spivey had become America's 100th sub-4 man.
At IU, Jim was twice an NCAA champion, winning the Mile indoors ('81) and 1500m outdoors ('82). He even earned All-American status at cross country, finishing 20th in 1981, and finally got revenge over a certain Tom Graves from Auburn. Jim won a staggering 13 Big Ten titles. And in 1982, based on his outdoor NCAA title and five conference titles that year, he was voted Big Ten athlete of the year, beating out Michigan football player Butch Woolfolk (who would go on to play for the New York Giants) by a single vote, 33-32. At the USA Outdoor Championships, Jim finished 4th in the 1500 in 1981-82.
Spivey graduated in May 1983 with a business degree. While at IU he and Coach Bell chiseled down his PRs to 1:46.5 (800m), 3:37.25 (1500m), 3:55.55 (Mile), and 13:33 (5000m). A few months after collecting his diploma, he was on his way to Finland, having been named on the U.S. team for the World Championships in Helsinki at 5000 meters, after finishing second at the U.S. Champs, just behind Doug Padilla. It was Jim's first major international championships, and was out of his depth over 12½ laps at this level, finishing 9th in his semi-final heat and did not advance to the final won by Ireland's Eamonn Coghlan.
That year he also moved to Indianapolis to work for the Indiana Pacers, where, for two years he sold magazine and radio ads, and then worked for Network Indiana, selling more radio ads before deciding to concentrate full-time on running in 1985.
But before that, in 1984, Spivey, just 24, won the 1500 at the USA Championships, which incorporated the Olympic Trials, beating pre-meet favorite Steve Scott, with a blistering 53.3 last lap. It was his first senior national title. And a 2:52.2 1200m time trial three weeks before the L.A. Olympics indicated Jim was peaking just right. He made the 1500m final and kicked his way to an impressive 5th, but well behind Britons Sebastian Coe, who defended his Olympic title, and Steve Cram, who got silver. Jim's 5th place marked the first time an American runner had placed in the top 5 in the Olympic 1500m final since Jim Ryun's silver medal in 1968.
With hindsight, he thinks he was fortunate to have made the final. "From January of '84 to the Los Angeles Games, I averaged just 41 miles per week," he recalls. "To go into the Games, run a heat, a semi, and then expect to make the final and try to medal, off that kind of mileage, was pretty naïve. I was really tired by the time the final came around. But I was too dumb to know any better."
That fall, he and Cindy Moyer, who met while undergrads at IU, married. Cindy would teach French at high school while Jim began thinking that being a full-time athlete was probably the route he needed to go if he was to catch up with the Brits.
Part 3 HERE.