Catching Up with Olympic Champion Matthew Centrowitz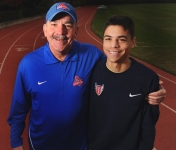 February 26, 2018
Get an American record, whether it's in the Mile, the 1500. And just, even records put aside, just having a positive year...
By Jonathan Gault, LetsRun.com
It's been a while since we've heard from 2016 Rio Olympic 1500 meter champion Matthew Centrowitz. After Centrowitz's injury-plagued 2017 season came to a disappointing end with a last-place finish in his first-round heat at the World Championships in London, Centrowitz elected not to defend his World Indoor title this year, instead choosing to spend the winter getting (and staying) healthy before departing next week for three races in Australia and New Zealand. He also decided to relocate from Portland, where he spent the past six years as a member of the Nike Oregon Project, to the Washington, DC area, where he grew up. Though Centrowitz is still a member of NOP and receives training from NOP coach Alberto Salazar, he has been working out under the watchful eye of his father, Matt Centrowitz, the former American record holder at 5000 meters, who now coaches the District Track Club and is the author of the book Like Father, Like Son.
On Sunday night, the 28-year-old Centrowitz raced for the first time since Worlds, splitting 1:49.0 in a 4×800 relay at the Boston University Last Chance Meet. As he stretched out after the race, I had the chance to catch up with Centrowitz, who discussed his decision to move back East, his belief that it's important for athletes to have input in their training, and his desire to add "American record holder" and "Diamond League winner" to his resume.
JG: First race since Worlds, right?
MC: Yeah, long time.
How'd it feel out there?
Felt like the first race since Worlds. Little flat, obviously didn't really freshen up for this race and just kind of put this on the schedule last-second. It was fun to come out here though, get a little something in before I head down to Australia and get some more racing in.
And how has working out been? How has training been going for you recently?
Yeah, it's been going really well since the New Year. Been able to string together healthy weeks of pretty solid training. Haven't had any setbacks since the New Year. Just been enjoying being back East and having my dad now back in my corner. We've had a really mild winter so that's been super nice. And I noticed, I think Oregon got some snow again. And so definitely not — I guess I want to run in the 75-degree weather days we've been having in DC, so it's been good.
Continued reading at: letsrun.com
NOTE: Video of the interview at the bottom of the article