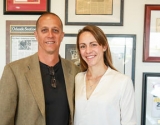 September 15, 2018
"It's loving what you do, but also knowing all of the work that you put into it and not giving an inch, because you know you worked so hard."
By Stephen Ruiz, Orlando Sentinel
Jenny Simpson did what she always does last weekend to end her running season.
She ran in New York, and as...
Read More
comments