Is Jenny Simpson the greatest American 1500 meter runner ever?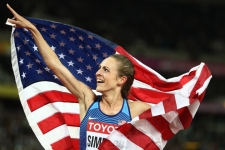 August 15, 2017
"What people say of me that makes me feel the best about my career is when they talk about how consistent I've been."
By John Meyer, The Denver Post
If there was any argument against the notion that Jenny Simpson is the greatest female American 1500 meter runner ever, it may have been settled in London this week when she claimed her fourth medal at a major international championship.
It could even be argued the Boulder resident and University of Colorado graduate is America's greatest of either sex in the "metric Mile" one of the sport's marquee events.
Simpson unleashed a killer kick over the final 100 meters Monday at the biennial World Championships, bursting from fourth place to claim the silver medal. She previously claimed World Championships medals in 2011 (gold) and 2013 (silver). Last summer in Rio, she became the first American woman to medal in the event at the Olympics, claiming bronze.
Best American female ever?
Continue reading at: www.denverpost.com