Centrowitz Feeling Faster Than Ever This Winter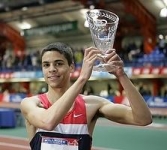 January 22, 2013
By Barbara Huebner, NYRR News Service
On a Skype call to a New York Track Writers' luncheon this afternoon, Matthew Centrowitz said that his recent workouts "have been faster than anything I could imagine" coming out of college.
He added that his father—two-time Olympian Matt Centrowitz, a longtime coach at American University—said of the early-season times: "I've never heard anything like that this time of year."
Centrowitz will defend his NYRR Wanamaker Mile title at the Millrose Games on February 16. Also interviewed via Skype was Abbey D'Agostino from Dartmouth University, the reigning NCAA champion at 5000 meters, who will compete in the NYRR Women's Wanamaker Mile. Robby Andrews, the 2011 NCAA champion at 800 meters who will face Centrowitz and the rest of the men's field in the Mile, traveled to New York City from his native New Jersey for the luncheon.
Continue reading at: nyrr.org