Centrowitz, Lakhouad Win New Balance Indoor Grand Prix Miles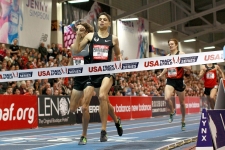 February 02, 2013
Wynne, Frazier high school Mile champions; NBIGP kick-off to the Bring Back the Mile Tour 2013
By Jim Gerweck, The Mile wire
BOSTON – (February 2, 2013) – When it comes to the Mile, the 2013 indoor track season has been thus far quite thrilling with Mary Cain's U.S. high school record and Galen Rupp's sub-3:51, and on Saturday, at the 18th edition of the New Balance Indoor Grand Prix at the Reggie Lewis Track and Athletic Center, it was tactics over time, at least in the Open divisions of the event.
In women's field with no clear favorite, Morocco's Btissam Lakhouad took the lead after the pacer, Monica Hargrove (third in the Open 400 earlier in the evening), dropped out after an opening 69-second quarter. The remaining pack of seven women dawdled through the next two laps, passing halfway in 2:23, slower than the high school girls had run an hour earlier.
The next two laps were barely faster (2:59 for 1K, 3:36 at the 3/4), making a sprint finish almost a foregone conclusion. Still, everyone was content to let Lakhouad continue to do the work, and while Treniere Moser and Violah Lagat mounted a challenge over the last lap, Lakhouad answered with a 30-second final 200 that was enough to hold off the other two by a slim margin, clocking 4:39.23 to 4:39.40 for Moser, with Lagat a mere .02 back in third.
"I got boxed in and couldn't get to the front," said Lagat, who graduated from Florida State University in December. "I gave it a good try but she [Lakhouad] was too strong." Lagat has moved to Colorado Springs and is now training under Julie Benson, with a focus on the 1500 outdoors. "I may run a few 800s too," she said. Although she grew up at altitude in Kenya, Lagat admitted that training at 7,000 feet hasn't been easy. "It's been a little tough," she said. "It's taking me a little bit of time to get used to it."
The Open men's Mile figured to be a bit faster, although as Will Leer admitted, "It's a season opener for a lot of us. We've been training, but you don't really know how you feel until you get in the race."
Pacer Matt Schere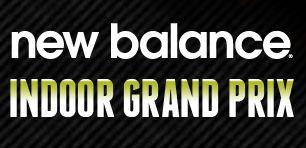 r towed the pack through a 60-second opening quarter, and when he stepped off the track two laps later, passing 800 in 1:58.7, pre-race favorite and 2012 Olympian Matthew Centrowitz (above, right PhotoRun) found himself in the lead. "I didn't want to be there, and I didn't want to keep running 30-31 the rest of the way," he said. "To be honest, I didn't expect it to be tactical, nor did I want it to be. I was ready to run fast, but no one seemed willing to take the lead – they were all looking at me."
The group of nine runners continued through 3/4 in 3-flat, at which point Leer drew even with Centrowitz two times, but couldn't get past. "I tried hard, but I couldn't get into the lead," said Leer. "Centrowitz is a savvy indoor runner –- he's got those short, quick little strides that are good on a small track."
"Leer kept it honest," said Centrowitz, who cranked a 56-second last quarter to win in 3:56.26, with Leer just .09 back.
In spite of the slow early pace, eight men broke four minutes, and many of them will try to better those times in two weeks at the 106th Millrose Games NYRR Wanamaker Mile in New York. Said Leer, "I'm going back to California for a few weeks, get in some training and sunshine, then hopefully come back and run a fast time."
New Balance Indoor Grand Prix Mile
Boston, MA, Saturday, February 2, 2013
MEN
1) Matthew Centrowitz (USA / OR), 3:56.26
2) Will Leer (USA / OR), 3:56.35
3) Craig Miller (USA / WI), 3:56.85
4) Jeff See (USA /OH), 3:57.43
5) Craig Huffer (AUS) 3:57.81
6) Taylor Milne (CAN), 3:58.45
7) Dorian Ulrey (USA / OR), 3:58.66
8) Brian Gagnon (USA / NJ), 3:59.49
9) Henok Legesse (ETH), 4:17.10
Matt Scherer (USA), DNF – pace
WOMEN
1) Btissam Lakhouad (MAR), 4:39.23
2) Treniere Moser (USA / TN), 4:39.40
3) Violah Lagat (KEN), 4:39.42
4) Hilary Stellingwerff (CAN), 4:39.79
5) Heather Kampf (USA / MN), 4:39.99
6) Gen LaCaze (AUS), 4:41.72
7) Dana Mecke (USA / TX), 4:44.73
Monica Hargrove (USA), DNF – pace
MASTERS (40 & older)
1) Brad Barton (USA), 4:24.14
2) Erik Neadeau (USA), 4:25.82
3) Lance Elliott (USA), 4:26.29
4) Scott Weeks (USA), 4:30.47
5) Chris Magill (USA), 4:34.39
HIGH SCHOOL
Boys
1) Henry Wynne (USA), 4:11.73
2) James Randon (USA), 4:12.89
3) Rob Napolitano (USA), 4:13.81
4) Jay Navin (USA), 4:15.89
5) Michael O'Donnell (USA), 4:17.20
Girls
1) Wesley Frazier (USA), 4:48.94
2) Bethanie Brown (USA), 4:54.57
3) Sarah Gillespie (USA), 4:54.81
4) Ryen Frazier (USA), 4:59.73
5) Katie Lembo (USA), 5:01.04
For complete results, go to: www.nbindoorgrandprix.com/events-results