Chasing the Elusive Four-Minute Barrier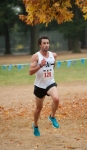 March 14, 2013
Elite runners converging on Lodi as they try to top standard of excellence
By Ed Yevelev, Lodi News-Sentinel
Jeff Merrill likens a Mile to two worlds colliding: The strategy and aerobic endurance of distance running, combined with the explosiveness of sprinting.
"It's a nice meeting right in the middle there," said Merrill, a former Lodi High School track star who competed at the University of Michigan.
"That's what makes it special. It's one of the fabled distances in track and field."
In two days, some of the world's stars in that distance will go toe-to-toe along Davis Road for the first annual Lodi Mile. Merrill credits the idea to his father Monty, the co-owner of the event's sponsors, Lodi Physical Therapy and the PUMP Institute.
But the former Flames standout, who now works in product testing for Nike up in Portland, has helped spice things up by corralling a host of decorated runners to headline the Elite Race.
Continue reading at: lodinews.com