Clark, Kampf Defend Titles at Ryan Shay Mile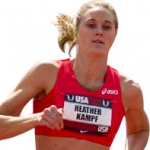 July 27, 2013
Kampf sets women's course record in 4:30.9; 10th stop on the Bring Back the Mile Tour; event honors legacy of Ryan Shay
CHARLEVOIX, Mich. - The 6th Ryan Shay Mile took place Saturday morning in Charlevoix under cloudy skies and cool temperatures. The 10th stop on the 14-event inaugural Bring Back the Mile Tour, the Open athletes were vying for $4000 ($1000, $500 and $250 plus $250 for the leader at the ½ mile) in prize money provided by Bergmann Marine.
2012 race champions Daniel Clark and Heather Kampf defended their titles with Clark crossing the line in a personal record of 3 minutes, 56.8 seconds and Kampf breaking her course record from last year with a time of 4:30.9.
Clark lead two other runners under the coveted 4 minute mark, Macklin Chaffee at 3:57.8 and Tony Jordanek at 3:59.0. Saginaw Valley State University assistant coach Tony Filipek was clear of the field at the half mile ensuring a fast pace. Soon after, Chaffee asserted himself and gapped the field by thirty meters through the three quarter mark. With less than a quarter mile to go, Clark showed great poise in closing the gap, finally catching Chaffee in the last hundred yards. Clark's performance puts him in the top five times since the race's inception.
The women's Mile was a two person race from the start between 2012 Olympian Geena Gall and Kampf, with the runners nose-to-nose through the half mile It was only in the last quarter mile that Kampf was able to hold off the 800 meter specialist, with Gall finishing second in 4:31.4 (also under Kampf's 2012 mark). The collegian Shannon Osika of University of Michigan was able to put in a late charge to finish a strong third place, clocking 4:34.2.
The Ryan Shay Mile started in the summer of 2008 to honor the memory of Ryan Shay, who passed away on November, 3 2007 while competing in the 2008 U.S. Olympic Marathon Trials in New York City. Ryan was from Central Lake, Michigan about thirty minutes south of Charlevoix. A talented runner, who through hard work and persistence, won championships in high school, college at Notre Dame, and as a professional. Ryan was and is a role model for many young people in Northern Michigan and around the country.
Supporting the Ryan Shay Mile was Bergmann Marine, located in Charlevoix, Michigan, which provides marine sales, service and storage facilities. This family owned and operated business spans three generations and has been providing service to Northern Michigan for more than twenty five years.
This event is held as part of Charlevoix's annual Venetian Festival, and in conjunction with the Drenth Memorial 5K & 10K road races on the same Saturday morning. Charlevoix is located in the upper northwestern portion of the lower Michigan peninsula.
6th Ryan Shay Mile
Charlevoix, MI, Saturday, July 27, 2013
MEN
1) Daniel Clark (MI), 3:56.8, $1000
2) Macklin Chaffee (OH), 3:57.8, $500
3) Tony Jordanek (OH), 3:59.0, $250
4) Josh McAlary (MI), 4:00.0
5) Dey Dey (CO), 4:00.0
6) Daniel Stockberger (IN), 4:15.2
7) Tony Filipek (MI), 4:15.5, $250 (leader at 1/2 mile)

WOMEN
1) Heather Kampf (MN), 4:30.9*, $1125
2) Geena Gall (MI), 4:31.4, $625
3) Shannon Osika (MI), 4:34.2, NCAA
4) Lauren Johnson (OR), 4:38.6, $250
5) Chemtai Rionotukei (KEN), 4:44.4
6) Sara Barron (MI), 5:06.7
*course record (previous record, 4:31.83, Heather Kampf (USA / MN), 2012)
Complete results can be found at: venetianraces.com