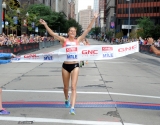 November 08, 2016
Three-time BBTM Grand Prix Tour champion has recorded 24 road Mile wins since 2011!
By Bring Back the Mile
Like no other runner, Heather Kampf has become a master of the road Mile or as she is affectionately known, The Queen of the Road Mile. Since the fall of 2011, the three-time BBTM Grand...
Read More
comments