Queen of the Road Mile Heather Kampf: Tips for Success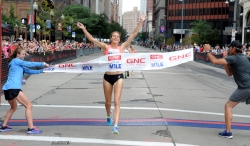 November 08, 2016
Three-time BBTM Grand Prix Tour champion has recorded 24 road Mile wins since 2011!
By Bring Back the Mile
Like no other runner, Heather Kampf has become a master of the road Mile or as she is affectionately known, The Queen of the Road Mile. Since the fall of 2011, the three-time BBTM Grand Prix champion (2014-16) has won an astonishing 24 road Mile events, including 6 in 2015, in addition to recent podium finishes at the 5th Avenue and B.A.A. Invitational Mile events.
The Team USA Minnesota athlete attributes her road Mile prowess to:
► First, having previous success at road Miles that created more confidence for every future race.
► Next, the tactics of racing on the roads compared to the track are simpler in that you generally don't have to fight for positioning (because the road is so wide) or pay attention to splits. However it isn't necessarily easier because a road Mile forces you to rely on your intuition so much more.
► Lastly, her 800 meter background has helped Heather sneak away with a couple wins when it comes down to a kick.
Below is a summary of Kampf's road Mile triumphs since 2011.
Heather Kampf Road Mile Wins (2011-16)
BY THE NUMBERS
Bring Back the Mile Grand Prix Tour crowns = 3
USA Road Mile titles = 4
Event records set = 7
TOTAL road Mile wins = 24
Multiple event titles:
4 = GNC Live Well Liberty Mile, Ryan Shay Memorial Mile, Bermuda Mile
3 = Medtronic TC 1 Mile, Grand Blue Mile
2 = Minnesota Mile, Michigan Mile
Prize money for her 24 wins = $65,850 plus $6500 BBTM GP Tour champion's purses
BY YEAR
2011 = 1
4:39, Front Street Mile, Maui, HI, Saturday, September 17, $500
2012 = 4
4:37*, Medtronic TC 1 Mile, Minneapolis, MN, Thursday, May 17, $4000
4:32#, Ryan Shay Memorial Mile, Charlevoix, MI, Saturday, July 28, $1000
4:36, Inaugural GNC Live Well Liberty Mile, Pittsburgh, PA, Friday, August 17, $4000
4:37, Minnesota Mile, Duluth, MN, Sunday, September 9, $2500
*USA Road title
#event record
2013 = 4
4:49, Bermuda Mile, Hamilton, BER, Friday, January 18
4:31#, Ryan Shay Memorial Mile, Charlevoix, MI, Saturday, July 27, $1000
4:32#, GNC Live Well Liberty Mile, Pittsburgh, PA, Friday, August 9, $4000
4:48, Inaugural Michigan Mile, Flint, MI, Friday, August 23, $2000
#event record
2014 = 4
4:45, Bermuda Mile, Hamilton, BER, Friday, January 17
4:33*#, Grand Blue Mile, Des Moines, IA, Tuesday, April 22, $7500
4:22#, Ryan Shay Memorial Mile, Charlevoix, MI, Saturday, July 26, $1000
4:30, Minnesota Mile, Duluth, MN, Sunday, September 7, $3000
*USA Road title
#event record
2015 = 6
4:54, Bermuda Front Street Mile, Hamilton, BER, Friday, January 16
4:36, Grand Blue Mile, Des Moines, IA, Tuesday, April 21, $5000
4:46*, Medtronic TC 1 Mile, Minneapolis, MN, Thursday, May 14, $5000
4:27, Ryan Shay Memorial Mile, Charlevoix, MI, Saturday, July 26, $1250
4:33, GNC Live Well Liberty Mile, Pittsburgh, PA, Friday, July 31, $4000
4:40#, Michigan Mile, Flint, MI, Friday, August 21, $2000
*USA Road title
#event record
2016 = 5
4:43, Bermuda Front Street Mile, Hamilton, BER, Friday, January 15
4:38, Grand Blue Mile, Des Moines, IA, Tuesday, April 26, $5000
4:35*, Medtronic TC 1 Mile, Minneapolis, MN, Thursday, May 12, $5000
4:33, GNC Live Well Liberty Mile, Pittsburgh, PA, Saturday, September 17, $5000
4:38#, The Navy Mile, Washington, DC, Sunday, October 2, $3100
*USA Road title
#event record