Cory McGee Gets Standard, Headed to Moscow!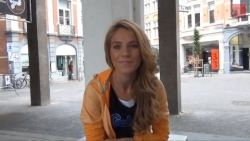 July 13, 2013
By Jason Byrne, MileSplit
The quest that started a month ago is now over. The University of Florida's Cory McGee earned her spot on the plane to represent the USA at the World Championships in Moscow next month.
It began at the USA Outdoor Track & Field Championships in Des Moines, Iowa. After a seventh place 4:14 in the 1500 meter prelims, she shocked the field by finishing in third place against the nation's finest. However, in order to make the team one must attain at least the 4:09.00 World "B" Standard -- McGee's season best was a 4:10.55 and the slow and tactical finals race of 4:29.70 did not get her anywhere close. Undeterred, McGee set out to prove to the world she belonged and punch her ticket to her first World Championship team.
Thus began a month-long journey that has been much hyped among the track community. During that month McGee, 21, has seen her fame grow from being little-known outside of the SEC faithful to being among the prominent rising stars of the USA. It has been a journey both figurative and literal; it has taken her around the world.
Continue reading, includes pre- and post-race videos, at: milesplit.com