Could Mary Cain Win a National Title at Age 16?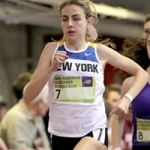 February 21, 2013
She has the fastest Mile time of the year among entrants for March 2-3 indoor championships.
By Peter Gambaccini, Runner's World
Mary Cain has entered the 800-meter run and the Mile at the USA Indoor Track & Field Championships, to be held March 2 and 3 in Albuquerque. The 16-year-old sensation from Bronxville, New York has to be considered a serious national title threat, particularly in the Mile.
Cain's latest national indoor high school record, a 4:28.25 Mile, came in a Millrose Games race in New York in which she was second, and the only competitor who beat her, Sheila Reid, was Canadian. The Americans closest to her, Kate Grace and Emma Coburn in third and fourth, respectively, are not entered in the USATF meet.
Former NCAA indoor Mile champion Sarah Brown will be in Albuquerque, and she's already faced Cain twice in the Mile this winter. Brown was just seventh at Millrose, but at the New Balance Games on January 26 in New York, she was first in 4:31.61 as Cain, in third, set her previous national high school record of 4:32.78. Cain's progress makes her the Albuquerque favorite. Three-time USATF outdoor 1500-meter champion Treniere Moser and Brie Felnagle are the other notable entries in the Mile, though declarations can still be made until February 25.
Continue reading at: runnersworld.com