Craig Engels: Full speed to the U.S. Olympic Trials 1500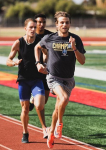 February 23, 2021
"I do know I have to be ready for a 3:29 1500 if I want to be in medal contention at the Olympics. So we've been just mentally getting ready, doing a lot of workouts that are going to help with that."
By Sieg Lindstrom, Track & Field News
You think you're pining for the U.S. Olympic Trials? Distressing as the pandemic delay has been for all who love the sport, at least you're not Miler Craig Engels, 4th-place finisher in the 2016 OT 800 and 5th in the 1500 as a then 22-year-old Mississippi junior.
Engels — who readily admits that athlete plights mean bupkis in the overall context of COVID-19's pervasive misery — is forgiven if four years has felt like forever. He came that close. Twice. Adding another year to the cycle — well, what's another eon among friends?
Far from letting his spirits go hangdog over 365 days of delay, Engels — the USATF 1500 champ in '19 and that season's U.S. #1 — has opted instead to chill and carry on grinding out the preparation. Still, he is ready to get the show on the road.
"Last year was a tough year for everyone," he says. "I'm not going to take away from the families who had people die and everything, but I mean, it sucked for athletes and it kind of showed us society doesn't really need us, you know. We're not vital to the way the world goes. But definitely, people miss sports. It's cool to see they miss the entertaining part of it."
Engels, mustachioed and famous for his mullet cut, has missed entertaining, too, though that's a tertiary concern behind racing to win when it counts.
In 2020, he says, "I kept myself busy. I bought a house and converted a van. It was just doing all these things that if I wasn't a runner, I'd be doing, so it was kind of a nice off, down year where I got to reconnect with a lot of friends. And yeah, it was a really weird time obviously for racing.
"'Cause you know in 2016 I got 4th in the Trials and the four years after that I was like wanting to redeem myself and now I have to wait another year. It was definitely tough and I definitely turned off that part of my brain that you need to be competitive.
"Maybe I didn't hit the best training of my life, but I'm back now and I'm fired up for this season, no matter what happens, just because now we're used to this kind of life, you know?"
The home that North Carolina native Engels purchased is in Portland, home base for coach Pete Julian's Nike group. The van he converted? No, it wasn't Engels' stalwart Toyota Dolphin of at least minor social media fame.
"I actually ended up selling that Dolphin for double what I bought it," he says, "and that's what I used to buy the van and renovate it. But I got it tattooed on my ass before I sold it so It's forever with me. It's beautiful, I would say. I wish I could show everyone."
With February's halfway mark now past, Engels has tested the competitive waters with his first two indoor races since placing 3rd in the USATF Indoor 1500 a year ago. The first 2021 outing was at 800, a 1:46.10 for 4th at the ATL II meet, improving his undercover PR by 1.65 from his previous best in '16. Two weeks later he raced to 5th in the cranking New Balance GP 1500 with 3:36.49, his fastest season opener at the distance by nearly 2.45.
Continue reading at: trackandfieldnews.com