Crim Michigan Mile Racing series draws big crowd, elite runners to downtown Flint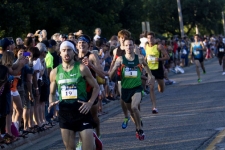 August 23, 2013
Blankenship, Kampf capture road Mile titles at 13th stop of inaugural Bring Back the Mile Tour 2013
By Ross Maghielse, MLive.com
FLINT, Mich. -- A pair of former University of Minnesota track stars took home top honors at the first-ever Crim Michigan Mile Racing Series Friday evening, Aug. 23, downtown Flint.
Ben Blankenship, 23, won the men's division of the Professional Mile by nearly a photo finish, sprinting ahead down the stretch to finish with a time of 4 minutes, 5.59 seconds, edging Jack Bolas and Nathan Brannen. Following shortly was Heather Kampf, taking the women's Professional Mile title in 4:47.27. Each race champion earned $2000.
"I expected it to be even tighter (than it was)," Blankenship said of his narrow victory. "I looked back a couple times and just thought, 'Oh hell, this is going to be a footrace' then just took the opportunity to get away at the end."
Kempf and Blankenship were both among the elite runners recruited by the Crim to take part in the inaugural event and each said they'd like to return next year.
"Absolutely enjoyed it and I know this race, the 10-mile at least, has been going on for years and years and adding this is a great thing," said Kampf, 26, who won her third road Mile crown in the past month. "I know this is a town that's faced a lot of hardships, so it's cool to see something like this continue on."
Grand Blanc Olympian Geena Gall was also in the Professional Mile field and finished fourth. Gall was admittedly disappointed with the outcome but also shared praises of having a professional Mile race near home.
Continue reading at: mlive.com
Michigan Mile presented by The Running Institute
Flint, MI, Friday, August 23, 2013
MEN
1) Ben Blankenship (OR), 4:06, $2000
2) Jack Bolas (NC), 4:06, $1500
3) Nathan Brannen (CAN), 4:07, $750
4) Craig Miller (CO), 4:07, $500
5) Macklin Chaffee (CO), 4:08, $250
WOMEN
1) Heather Kampf (MN), $4:48*, $2000
2) Lauren Johnson (OR), 4:49, $1500
3) Sara Vaughn (OR), 4:50, $750
4) Geena Gall (OR), 4:55, $500
5) Meghan Peyton Armstrong (MN), 4:59, $250
*third Bring Back the Mile Tour title
Complete results and more at: Crim.org