Despite leg injury, veteran Nick Willis confident about Commonwealth Games preparation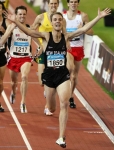 February 08, 2018
"To represent New Zealand in Australia - it's always fun to try and beat those guys on their own turf."
By Chris Forster, Newshub
Nick Willis could still add to his medal tally for New Zealand at the Commonwealth Games on the Gold Coast this April.
The 1500 meter specialist won gold in his favored event in Melbourne 12 years ago, and went on to claim bronze medals in Delhi and Glasgow.
But the 34-year-old was fearing the worst when he started feeling pain in his upper fibula and needed MRI scans.
Those scans revealed a stress reaction in his upper fibula.
"It's actually the best news I could hope for," Willis told Newshub from his home in Michigan.
"Had it been a tear or a stress fracture it would've meant a lot more time off.
"This gives me the possibility, it's not a guarantee, but a possibility of a shorter time away from running."
Willis has been putting all his energy and training into the event.
Continue reading at: newshub.co.nz