Dick Buerkle, Miler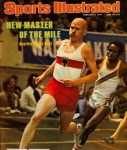 January 21, 2002
By Kristin Green Morse, Sports Illustrated
Dick Buerkle loved Oreos and peanut butter so much that he devoured nine of the cookies and two PB&J sandwiches a few hours before a race on Jan. 13, 1978. The unorthodox carbo loading worked: That night Buerkle broke the indoor world record in the Mile, running 3:54.93 at the CYO Invitational in Maryland's Cole Field House.
Buerkle, 54, is a cookie monster no longer. He stopped eating flour and sugar after seeing a photograph of himself carrying the Olympic torch before the opening ceremonies of the 1996 Summer Games in Atlanta, where he has lived since 1979. "My kids took this picture of me, and I had this flab around my belly," says the high school Spanish teacher and father of three twentysomethings (Gabriel, Lily and Tera). "My wife thinks I'm nuts, but I didn't like the way I felt." So Buerkle changed his diet, dropped 20 pounds and upped his running regimen from 15 to 60 Miles a week. Now weighing in at 145 pounds, the 5'8" Buerkle says, "I feel fabulous."
It was Buerkle's weight--or lack thereof--that led him to running. As a high school freshman at Aquinas Institute in Rochester, N.Y., he weighed 80 pounds and quickly figured out he was too light for football. He tried several sports before finding his way to track, running the Mile as a senior. A walk-on at Villanova, he became an expert in finishing third at the NCAA Championships--doing so twice in the indoor 2-Mile and once in the outdoor 3-Mile as a senior in 1970. Buerkle, easily recognized by his bald noggin (the result of childhood-onset alopecia), won his first national title in 1974, in the 5000 meters, and competed in the same event at the Montreal Olympics two years later. Disappointed with a ninth-place finish in his Olympic heat, he quit running to sell contact lenses in Buffalo. After a year's hiatus, he announced at age 30 that he was returning as a Miler. Four months later he broke the world record. The U.S. boycott of the 1980 Moscow Games left Buerkle, who qualified in the 5000m, discouraged, however, and he retired in '81.
Continue reading at: sportsillustrated.com