Putting It All Up Front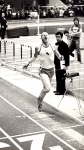 January 23, 1978
When Dick Buerkle quit teaching to sell contact lenses he also discarded come-from-behind race tactics, and after a jackrabbit start he broke the indoor Mile record
By Anita Verschoth, Sports Illustrated
It was Friday the 13th and, naturally, Dick Buerkle's flight out of Buffalo at 12:30pm was canceled because of a snowstorm. But at 4:00pm, even though it was still snowing, he was able to take off for Washington, D.C. and the season's first big indoor track meet in the East, the CYO Invitational at the University of Maryland. By 7:30pm Buerkle (pronounced Burk-ley) had arrived at Cole Field House in College Park, but the gateman wouldn't admit him because he didn't have a competitor's pass. He got in only after an official intervened. Later, warming up in a hall with a wet floor and a leaky roof, Buerkle said, "I've got to be crazy to fly out in a snowstorm on Friday the 13th to try for a world record."
At 9:05 he lined up for the Mile on the 160-yard track alongside Filbert Bayi, Paul Cummings and Ken Schappert. When the gun went off, Buerkle took the lead. He ran the first quarter in 57.3, was 1:58.9 for the half and hit the three-quarter mark in 2:58.3—but barely two yards ahead of that more famous front-runner, Bayi. Then he did the final quarter in 56.5, pulling away to beat Bayi by 20 yards in 3:54.8 (although it will probably be recognized as 3:54.9 based on the automatic timer). Tony Waldrop's mark of 3:55, also hand-timed in 1974 at San Diego, had been wiped out.
"When I hit the last quarter I didn't think I would get the record," Buerkle said. "I only pulled it out because I thought Bayi was too close."
"Dick ran a very good race," allowed the recently married Bayi. "It was a good one for me, too. I did not expect to run 3:58.4. I had only two days of training this week in Los Angeles, and it rained."
Continue reading at: sportsillustrated.com
Indoor world record progression HERE.