Dixon Hemphill, 94, Refuses to Let Cancer or Age Stop Him from Running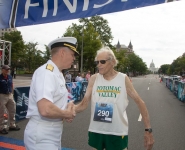 October 03, 2019
The Navy Mile, on Sunday morning, honors the local DC legend and WWII veteran: Lieutenant Commander Dixon Hemphill 70 & Over Heat
By Kelyn Soong, WashingtonCityPaper.com
Twenty years ago, doctors told Dixon Hemphill he would never run again.
He was riding his bike down a hill, going about 20 miles per hour, when "some character in a Cadillac" came up alongside him and sent him flying into the pavement. Hemphill, who was almost done training for his 15th consecutive Reston Triathlon, broke his pelvis, suffered a collapsed lung, and spent 41 days in three different hospitals following the event.
The surgery to keep his pelvis together resulted in a staph infection, further complicating his recovery. He was 74 at the time.
"I realized with this accident I had and so forth, it might be that my time was numbered," Hemphill says. "I might not live too long if I didn't exercise. It sounds kind of morbid, but I did feel that way."
His wife, June, says she wasn't even thinking about his running. She just wanted him to walk and feel normal again.
But Hemphill had other plans. He decided he could not stop running.
Hemphill's hometown of Pawcatuck, Connecticut, sits across a river that separates it from Westerly, Rhode Island. The town is so small that he had to travel to Westerly to access the post office.
He grew up the middle child of three boys in the picturesque village known for its historic, Victorian-style houses, and spent his youth as a track & field athlete—minus the running. He pole vaulted, high jumped and threw discus in high school.
After graduating, Hemphill, now 94, attended Amherst College in Massachusetts for a year. He admits he did "very poorly" in his academics.
World War II had started, so, like his father before him, Hemphill joined the Navy, and served from 1943 until 1946 on a cruiser in the Atlantic and a landing craft in the Pacific. He did not see combat, but completed three years of active duty and 17 years in the reserves.
Continue reading at: washingtoncitypaper.com
PHOTO CREDIT: Jeff Malet Photography