Dog Days for Jenny Simpson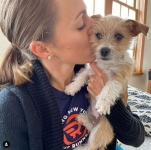 May 21, 2020
"I go into every season and every championship as if it was a new beginning. I don't drag in baggage from the past as I also don't prop myself up with accomplishments of old. Each year is its own mountain to climb."
By Sieg Lindstrom, Track & Field News
With what would have been a high-gear leadup to a run at a repeat on the Olympic podium currently shifted to neutral as for every Miler, Jenny Simpson is riding puppy love through the uncertainty of the coronavirus pandemic. Her new special ingredient as she stays safe and sane at her Colorado home, sheltering in place with husband Jason and her sister-in-law Annie is hardly a secret. It's Truman.
Truman is a 5-month-old maybe-Jack Russell pup the Simpson's adopted through Mother Gaia Animal Rescue around the beginning of April, and he's famous. The New York Times ran a feature on the irresistibly cute canine in April and his Instagram account, thehairytrumanshow, has more than 2,100 followers.
"He's super cute and he's super nice," Simpson told viewers on a Drake Relays Instagram stream during what would have been the baton festival's showtime week. "Except every—I don't know—once a week he wakes up with a little flame in his eye, just a little devil about once a week. But other than that he's really good." And better than that for the Simpson household's morale.
Says Simpson, "The whole reason we set up the Instagram was just to give something fun and happy for people to see every day. So I post a picture of him every day."
With competition sadly impossible for the moment, Simpson is on record with a creative suggestion: "My fantasy commemoration would be if we could have the Drake Bulldog and Truman have a socially-distanced race on the track."
Indoors in February Simpson got her own racing year off to a start with a pair of wins at longer distances—first 2013.
"Great question," the former steeplechase star says when asked if a step up in racing distance is on the cards. "My heart and head are still 100% with the 1500. I have always worked hard to be good at a range of events. However, the past few years required intense focus on very specific 1500 meter work as the competition only gets tougher in that event. But it's not good to lose those 5K skills and maybe during the past few years I've let that ability slip a little. So I used the time from Doha to the February race at BU to sharpen them up again."
By Doha, of course, Simpson means the World Championships last fall, where her 8th-place finish saw her off the 1500 podium for just the second time in the last 5 Worlds. At the '11 edition of the global championships, don't forget, she won gold.
The Colorado grad achieved plenty to be proud of in Qatar, though, and now in world-class season #14 she knows to keep all years in proper perspective. Simpson's 3:58.42 Doha clocking—in her 10th WC / OG appearance—was her fastest 1500 since 2016, the year in which she won Olympic bronze in Rio.
Continue reading at: trackandfieldnews.com
NOTE: The fifth in a series of TFN event-focus articles on the U.S. women's 1500, an event on a hot streak and one in which we expect to see fierce-fierce racing when the competitive trek toward the Tokyo Olympics resumes.