Eat Like an Elite: Cory McGee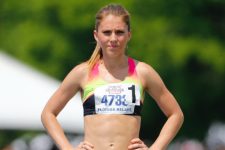 August 12, 2015
Southern cooking rules in the diet of this Miler.
By Cory McGee, Running Times
In 2013, while she was an undergraduate at the University of Florida, Cory McGee ran her 1500m PR of 4:06.67. That was the same year she made the U.S. team for the IAAF World Championships in Moscow. Now training with New Balance in Boston, McGee, who hails from Mississippi, relied on southern cooking to keep her warm through her first New England winter.
Breakfast
I generally have two pieces of toast. I get this pecan cranberry bread that has a lot of texture. And I always search out jam. Apricot is high up on my list, and I really like blackberry. I do that with a banana and coffee 90 minutes before my workout.
Post-Track
Immediately after I work out, I always have a protein shake with 20 grams of protein, along with some fruit. I usually bring a Tupperware of sliced oranges or strawberries.
Continue reading at: runningtimes.com