Eat Like an Elite: Jenny Simpson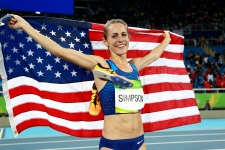 February 25, 2017
The Olympic medalist swears by meal prep delivery services and makes a mean chocolate chip cookie.
By Heather Mayer Irvine, Runner's World
In 2015, Jenny Simpson finished last in the World Championship 1500 meter race. She'd been clipped and lost her shoe. A year later, Simpson, who holds a personal record of 3:57.22 in the 1500 meters, won the metric Mile bronze medal in Rio, making her the first American woman to medal at the distance in the Olympics.
The three-time Olympian says while she's not a chef, she can cook a healthy meal and get it on the table in less than 30 minutes. And thanks to her newfound discovery of a meal prep delivery service, Simpson is no longer afraid of cooking chicken.
Continue reading at: www.runnersworld.com