Fields Set for Inaugural Pikes Peak High-Altitude Mile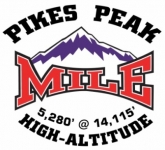 August 12, 2013
At 14,100-plus feet, the highest competitive Mile race in the world
MANITOU SPRINGS, Colo. - Some of the toughest middle-distance and mountain runners in the country will test their lungs and legs on Tuesday, August 13 in the inaugural Pikes Peak High-Altitude Mile at the 14,115-foot summit of Pikes Peak.
It's going to be different than any other Mile race in the world.
"We've hosted the Pikes Peak Marathon and Ascent for years, starting in Manitou and running to the top of the mountain and back," said race director Ron Ilgen. "But what will a Mile run look like at 14,000-plus feet? We think it's going to be extremely difficult, but very exciting."
The men's race will begin at 9:00am, with the women following at about 9:20am. The summit will remain open to auto traffic during the Altitude Mile and the media and the public are invited to attend.
Media credentials and a Pikes Peak Highway Pass can be picked up at Memorial Park beginning at 6:30am. There will be limited space for media members on vans departing at 7:00am from Memorial Park. The credentials and pass can also be used for the Pikes Peak Ascent and Marathon on Saturday and Sunday (Aug. 17-18).
Race fans should be prepared to drive and pay the regular fee at the Pikes Peak Highway toll gate. Or, van rides will be provided from Memorial Park, leaving at 7:00am on a first-come first-served basis. Riders will be charged only the highway toll fee.
Race organizers believe the Pikes Peak High-Altitude Mile will be the highest competitive Mile race ever contested in the United States and possibly the world.
So who will be the fastest at 14,000 feet, the track and road runners, or the high-altitude specialists?
The field includes American Distance Project runner Dey Dey, who won the Bristol and Boulder Mile races this summer, as well as Simon Gutierrez, a three-time Pikes Peak Ascent champion.
"It's going to be a gutsy race," Ilgen said. "We know that the mountain guys can run at altitude. But can they compete against runners with pure speed?"
There will be an awards ceremony at the summit and race winners will also be recognized at the Pikes Peak Ascent and Marathon Expo press conference at 1:00pm Friday (Aug. 16) at Memorial Park.
There will be plenty of incentive to run fast. The Pikes Peak High-Altitude Mile champions will earn $1000. Second place pays $500; third, $250; and the fourth-place runners will win $100.
MEN'S FIELD
Dey Dey, Colorado Springs (Bristol Mile, 3:53); Scott Dahlberg, Fort Collins (4:09 Mile); Alex Nichols, Colorado Springs (runner-up 2013 Pikes Peak Marathon); Simon Gutierrez, Colorado Springs (three-time Pikes Peak Ascent champion); Liam Meirow, Dillon (4:18 Mile); Leonard Korir, Colorado Springs (2013 Garden of the Gods 10 Mile Run champion); Edwin Sang, Colorado Springs (4:07 Mile); Anthony Mallory, Colorado Springs (4:10 Mile); Isacc Chelimo, Boulder (1500 3:50); Edwin Kipchumba; Roberto Mandje, Boulder (4:02 Mile); Charles Hillig, Boulder (4:04 Mile); Neil McDonagh, Manitou Springs (4:05 Bristol Mile); Matthew Perri, Denver (4:09 Mile) and Sammy Kiplagat Cheptoo (Dallas Rock 'n' Roll Marathon winner).

WOMEN'S FIELD
Nicole Mericle, Boulder (4:25 1500 meters); Stephanie Bylander, Colorado Springs; Shannon Payne, Colorado Springs (5K 16:58); Adrian Chouinard, Colorado Springs (5K 17:07) and Rochelle Kanuho (5:00 Mile).
Visit www.pikespeakmarathon.org for more information.