Filbert Bayi: Catch him if you can!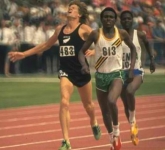 May 21, 2014
Former Mile world record holder revolutionized racing with front-running tactics: "I thought the only way to avoid spiking was to run from the beginning in front of everybody."
From Earl Nurse and Lauren Said-Moorhouse, CNN, African Voices
DAR ES SALAAM, Tanzania (CNN) -- He's smashed world records and revolutionized running during his illustrious career. And yet the name of Filbert Bayi has almost been forgotten.
The date was February 2, 1974 and the stage was the men's 1500 meter final at the 1974 Commonwealth Games in Christchurch, New Zealand. Leading from the start, Tanzanian Bayi continued at a blistering pace throughout the race to cross the finish line first in a race that's often described as the greatest middle distance event of all-time. His record-breaking time? 3 minutes and 32.2 seconds.
It would take five more years for Great Britain's Sebastian Coe to break that achievement. Today, 40 years on, Bayi's phenomenal performance remains a Commonwealth record.
"I changed the system of running," Bayi tells CNN. "In those years before I broke the record, most of the athletes were running in the group, waiting for the last 200 meters and sprint.
"I changed the whole system [and] ran from beginning to the end. Very few people appreciate that. Just because I didn't win a gold medal in the Olympic Games but still my [Commonwealth Games] record stays for 40 years."
Continue reading at: www.cnn.com