First impressions – Ashton Eaton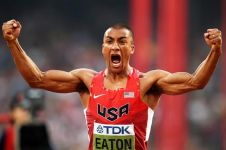 January 06, 2016
For some reason, in my mind, I wanted to run it as fast as I could so I asked mum to buy me spikes, a jersey & shorts, and I ran the timed Mile as hard as I could. I was timed at 6:30.
By Steve Landells, IAAF
A new series called first impressions starts today and who better to get matters under way than the 2015 IAAF World Athlete of the Year Ashton Eaton.
Eaton, especially after his win and world record in the IAAF World Championships Beijing 2015 decathlon, is one of the most recognizable faces in the sport.
Read more about some of the charismatic and erudite U.S. combined-event ace's first experiences.
FIRST RACE
It was in elementary school when we were asked to do a timed Mile. The only guidance we had from the PE teacher was that we had to complete it within 15 minutes.
Continue reading at: www.iaaf.org