Florida's High Schools Will Jump and Throw in Meters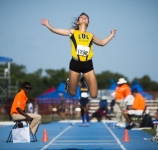 January 19, 2017
While the metric system has largely prevailed in track & field, the Bring Back the Mile campaign argues that no event in the sport carries the same mystique and appeal of history as the Mile.
By Jeré Longman, New York Times
It seems highly unlikely that the 121.92-meter home run would gain any more traction now than it did during baseball's flirtation with metric distances on outfield fences in the 1970s. And a television audience might be more confused than delirious if it was announced that Stephen Curry had just hit a buzzer-beater from 10.67 meters instead of 35 feet.
The hoariest of clichés also appear safe, too. Football is in no danger of becoming a game of centimeters.
But track & field long ago loosened its ties to the feet and inches of the British imperial system, and among track events, only the seldom-run Mile persists as a revered imperial distance.
Yet within American track & field there are conflicting views about how pervasive the metric system should become. One side calls the imperial system antiquated and says it should be abandoned in favor of international uniformity. The other side says familiarity is needed to preserve history and maintain relevance for a sport that is robust in participation but struggles for spectator interest outside of the Olympics.
The latest organization to enter the debate is the Florida High School Athletic Association. As the outdoor track season opens in February, Florida high schools will apparently become the first in the country to measure field events using the metric system, as they have done for all track events since 1990, introducing it for all district, regional and state track & field championships.
Continue reading at: nytimes.com