Four Minutes to Fame: Maton, Fisher and Hunter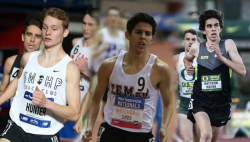 February 26, 2016
The latest HSer sub-4 does credit Maton and Fisher for lighting a fire: "It was really inspiring. After I saw that, I thought 'OK. I've got one goal for next year and hopefully I can join the club.'"
By Parker West, Dyestat
In the span of 10 months, the number of all-time sub-4 high school Milers has blossomed from five to eight as Matthew Maton, Grant Fisher and Andrew Hunter have dipped under the magical standard.
But is 4 minutes becoming the new 4:05?
Not so fast. Author Jeff Hollobaugh, who wrote the book How to Race the Mile last year, does not expect to see new sub-4 high school Milers on a regular basis. It's still a a very hard thing to do. (Note: How To Race The Mile: Learning Effective Tactics from Great Runners and Races was honored by the Track & Field Writers of America with its Book Award last week).
Continue reading at: www.dyestat.com