Fred Kerr PA HS Track & Field Hall of Fame Inductee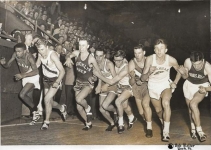 February 28, 2014
Former state record holder: "The Mile that I started running at West York was always my favorite event. That race developed my outlook on success — run hard, long and every day."
By Ben Destefan, Record Herald
Time continues to pass, but Fred Kerr's running legacy will forever live on.
More than 50 years removed from his last competition, Kerr is now being recognized alongside the state's all-time greats upon his induction into the Pennsylvania High School Track & Field Hall of Fame this Saturday.
Kerr's scholastic career was spent at West York High School, where the former state Mile record holder won four PIAA gold medals prior to graduating in 1955.
From there, Kerr went on to compete at Penn State University as a member of both the track and cross country teams. While at PSU, Kerr earned All-American honors for his sophomore and junior seasons.
Following his final competitive running with the U.S. Army squad in 1961, Kerr's employment at Grove Manufacturing brought he and his family to Greencastle from 1973-87.
Continue reading at: www.therecordherald.com