Full Monty Writer Beaufoy Writes Olympic Rivalry Script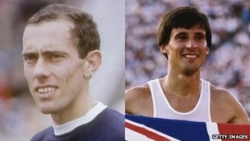 February 15, 2013
By Ian Youngs, BBC News
Simon Beaufoy, best known for writing The Full Monty, has completed a screenplay about former Olympic rivals Steve Ovett and Sebastian Coe.
Coe and Ovett dominated middle distance running in the late 1970s and 80s - with their rivalry coming to a head at the Moscow Olympics in 1980.
Beaufoy told BBC News it was "a brilliant story" with a "perfect end".
"They were the biggest threat to each other and they never wanted to find out who was best."
"I hadn't realised how good it was until you dig into their past," Beaufoy said.
"They were fantastically different athletes and different people. And they rarely met... apart from on the track - but not very often, even on the track.
"Before Moscow they'd only raced against each other twice, and once was in a schools' Cross Country event.
"They deliberately kept as far apart from each other as they could, even though they were running he same event.
Continue reading at: bbc.co.uk