Furman Elite turning track heads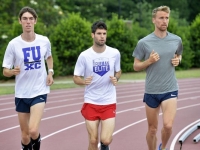 June 08, 2015
"We cover all the basic expenses. Nobody is getting rich."
By Willie T. Smith III, Greenville News
Robert Gary was in the midst of a successful coaching career at Ohio State. But after six years coaching the men's track and field team and 16 seasons leading the men's cross country squad at his alma mater, he decided to move south.
Since taking over as over Furman University's cross country and track and field coach, things have gone well.
Both the Paladins men's and women's cross country squads are back-to-back Southern Conference champions. This year, the men's team qualified for the NCAA postseason, and several runners have competed as individuals.
Gary, his wife, Rita, and others, also have a successful professional running group Furman Elite.
Continue reading at: www.greenvilleonline.com