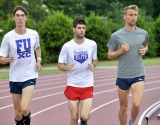 June 08, 2015
"We cover all the basic expenses. Nobody is getting rich."
By Willie T. Smith III, Greenville News
Robert Gary was in the midst of a successful coaching career at Ohio State. But after six years coaching the men's track and field team and 16 seasons leading the men's cross country squad at...
Read More
comments