Gen 10: middle distance wunderkind Jakob Ingebrigtsen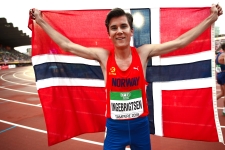 December 27, 2018
"I've been a professional runner since I was eight, nine, 10 years old. I've been training, dedicated and following a good structure – the same as my brothers – from an early age."
From the IAAF
Looking ahead to the IAAF World Athletics Championships Doha 2019 and the Tokyo 2020 Olympic Games, we're highlighting the rise of a new generation, 10 exciting prospects under the age of 21 who are set to become stars of the sport over the next few years. Below find the profile and 10 facts about middle distance teen talent Jakob Ingebrigtsen.
Country: Norway
Events: 1500m / Mile, 5000m
Born: September 19, 2000
Coach: Gjert Ingebrigtsen (father)
Social media: @jakobing (Instagram), @JakobIng (Twitter), @ingebrigtsenjakob (Facebook)
It was a golden double whose ripples were felt around the world, a feat of athletic mastery most could only dream of at any stage of their careers, never mind at the tender age of 17.
But Jakob Ingebrigtsen isn't just any teenager. Time and again, he'd made that abundantly clear well before he raced to 1500m and 5000m gold at the European Championships in Berlin last August.
Indeed, keen followers of the sport had been aware of Jakob Ingebrigtsen before he even made his international debut in 2016. When older brothers Henrik & Filip started winning international medals from as far back as 2012, they had spoken of their up-and-coming younger brother.
But few fans – and not even Jakob himself – had expected his rise to such lofty heights would be so sudden.
One of the first displays of his impressive range came at the Norwegian Junior and Youth Championships in 2015. In the space of three days, he won the U16 titles at 800m, 2000m, 1500m steeplechase and 300m hurdles.
At just 15 years of age, he competed at the IAAF World U20 Championships Bydgoszcz 2016. It was his first international championships and he was up against athletes three years his senior, but he finished a respectable ninth in the 1500m final.
Later that year, he landed his first major title by winning the U20 men's race at the European Cross Country Championships in Chia, finishing eight seconds clear of his nearest rival. Of the 87 athletes in the field, just one was younger than Ingebrigtsen.
But it was in 2017 when Ingebrigtsen, still an U18 athlete, really came to prominence. At the IAAF Diamond League meeting in Eugene, he became the youngest man in history to run a sub-4 minute Mile, clocking 3:58.07. He improved on that three weeks later in front of a home crowd in Oslo, running 3:56.29 to win a special junior edition of the Dream Mile.
More, including Team Ingebrigtsen 10 facts, at: iaaf.org