Going the Distance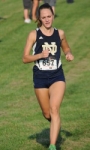 October 28, 2013
Miler Emily Frydrych learns how to be a leader in her second sport: cross country
By Tayler Turner '14, UND.com
For most people, the thought of running three (or more) miles at a 5-6 minutes per mile pace sounds brutally exhausting—but maybe you would be surprised to know a member of the Notre Dame cross country team feels the same way.
"The distance is a little bit longer than I'd like," confesses Emily Frydrych, a junior cross country runner.
Frydrych, though, has reasons for her lack of excitement about the distance of a cross country race. She was originally a track runner who specialized in the 800 and the Mile.
"I like track better," she explains. "I come from more of a middle distance background. I like cross country too; it's just harder for me."
Once she enrolled at Notre Dame, however, Frydrych was encouraged to place a more of a focus on cross country. In the span of three short years, she has transitioned from a cross country skeptic to one of the teams top runners.
Continue reading at: www.und.com