Hands Across the Chasm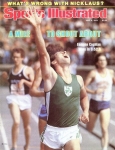 July 09, 1979
With track outcast Sydney Maree watching from the stands, Eamonn Coghlan ran the fastest Mile of the outdoor season and Mary Decker established an American record
By Joe Marshall, Sports Illustrated
To stir interest in last Saturday's Brooks Meet of Champions at Franklin Field in Philadelphia, the promoters ballyhooed "The Magnificent Mile" as the main event, although the only truly magnificent thing about a Mile these days is the cost of the gasoline needed to cover it. By Saturday evening the question was: Which magnificent Mile? Mary Decker's American record 4:23.49, the second fastest time in history for a woman and only 1.4 seconds off the pending world record of Romania's Natalia Maracescu? Or Irishman Eamonn Coghlan's 3:52.9, the fastest outdoor time in the world this year?
It's too late now, but what the promoters should have done was bill each Mile as "The Rabbit Chase." Both Decker and Coghlan were spurred to their splendid times by rabbits—runners who purposely set fast paces and then quickly fall out of contention.
Meet coordinator Ron Stanko persuaded Susan Vigil of the University of New Mexico to lead the women, and inserted two pacemakers, Paul Cummings and Elton Cochran-Fikes, into the men's race. Cummings, who has run 3:56.4, is a world class Miler in his own right, but Stanko changed his classification for the Meet of Champions. "I won't say exactly what Cummings' role is in the Mile," he said, "but I'm having a shirt made up for him with big ears on the front and a cottontail on the back."
Decker's record run pared almost five seconds from Francie Larrieu's old standard. Larrieu lowered that by .6 seconds, but her 4:27.6 put her 30 yards behind Decker and in second place. Decker had saddled herself with pressure by publicly stating that she was pointing for the American record. Behind the scenes she maneuvered to improve the odds. Stanko had planned all along to spice up the men's Mile with rabbits, but he hadn't envisioned Vigil's role in the women's Mile until Decker requested it.
"Mary wanted me to go out in 64 seconds for the first quarter," said Vigil. She succeeded in pulling the field, which included Jan Merrill, the American record holder in the 1500 or metric Mile, through the first lap in 64.5, but she fell far short of her half-mile goal of 2:08. When Decker, who was second at the halfway point, heard the time announced (2:11.3), she realized she had to take charge. Merrill had taken a brief lead late in the second lap, but Decker suddenly kicked past her, opening a big gap on both Merrill and Larrieu. Decker led by 15 yards at the end of her 66.4 third lap, and blazed the final quarter in 65.8.
Decker spent much of the winter in New Zealand, where she hoped to take advantage of the southern hemisphere summer for heavy outdoor training. But in February she slipped on a curb and suffered a whiplash injury that prevented her from working out until April. She is just now getting back into top racing shape. "I know I'm nowhere near my potential," she said after the race. "I'm looking forward to breaking the world record, and I'm confident that I will get it sometime this season."
With or without rabbits, the world record was in jeopardy in the men's race because Stanko had assembled the year's finest Mile field. It included not only Coghlan, who set the indoor world record of 3:52.6 in San Diego last February, but also Steve Scott, the AAU champion the past two years at 1500 meters; New Zealand's John Walker, the world record holder in the Mile (3:49.4); Walker's countryman Rod Dixon; and Villanova's Don Paige, the NCAA 800 and 1500m champion. All five had run the storied distance under 3:55.
Continue reading at: si.com/vault
U.S. Mile record progressions HERE.