Harry Nolan has been running for more than 50 years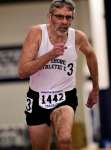 January 29, 2021
Masters ace recorded a sub-6 Mile for 57 straight years from 1963 to 2019!
From Lifetime Running
New Jersey's Harry Nolan has been a top U.S. runner in one event or another since the mid-1970s. He started on the track, moved up to the marathon (PR of 2:22), and then moved back to the track in his 40s and beyond. At 41, he ran a 1:59 800 and 4:15 Mile. At 73, he's still running 50 to 60 miles a week despite triple-bypass surgery two years ago. "Every day above ground is a good day," he says. He also believes that "Life is not a dress rehearsal" and we should live every day as if it might be our last.
Career / Profession? I have had a somewhat split career, within two different professions. I spent 45 years in higher education as a professor, department chair, and associate dean at five different universities, but most at Georgian Court University, where I was a tenured full professor and department chair for 30 years. My other profession was as an administrator within the recreation, park and tourism industry, where I worked as director with different governmental agencies (overlapping with my university positions) and directing my own tourism based research consulting company.
When did you start running and why? I started running track in my freshmen year of high school, originally as both a hurdler and pole vaulter. However, while practicing those events, I was taken with the distance runners, conducting their workouts as a group, almost a team within the team. In the fall of my sophomore year, I began to run on the cross county team and never looked back. I was one of the top three runners on the team the next three years, which won a number of championship titles. In my senior year, I won the 2 Mile in our conference indoor championship and was second in the Mile outdoors. I received a track scholarship to Kennedy College in Nebraska, where I won the Nebraska College Conference Mile and 2 Mile , and was an NAIA cross country All-American all in my senior year. I started training and running the steeplechase during that time, and was a pre-qualifier for the U.S. Olympic Trials.
How much did you run in your peak years, miles per week? In high school and college, we averaged about 40 to 50 miles a week. After college, wanting to qualify for major races and possible Olympic Trials, I increased it to an average of 70 miles a week. Beginning in the mid-1970s, I got on a 10-year marathon kick, averaging one marathon a year, but I have always felt my best events were the middle distance, 8 to 10K. After a few good marathons under 2:30, from 1983 to 1986, I gradually increased my mileage up to 90 miles a week, eventually running a marathon best of 2:22. In 1987, I turned 40, and shifted my emphasis back to the middle distance after my last marathon in 1986.
What were some of your top race performances and / or running achievements? As a college runner, I had run 1:55, 4:11, 8:58 and 14:18 for the half, Mile, 2 Mile, and 5K. In 1975 I took a job at the University of Nebraska as a Professor, proceeded to train with the university's 7:22 4 x 8 runners, and ran all of the major meets on the mid-western circuit. I wound up running in the spring of 1976 1:53, 4:08, 14:04 and 29:22.
Continue reading at: lifetimerunning.net