He had the Time of His Life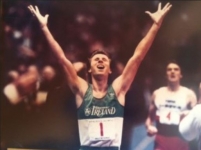 March 07, 1983
In the season finale, Eamonn Coghlan lowered his indoor Mile world record to 3:49.78: "All I could think of was my coach Gerry Farnan and my father. I was saying, hey, this is for you guys."
By Craig Neff, Sports Illustrated
Eamonn Coghlan lay in his New Jersey hotel room early last Sunday afternoon jotting down numbers on a tiny message pad when the phone rang. It was fellow Irishman and Miler Ray Flynn. "What time are we going over to the meet?" asked Flynn, who would be racing against Coghlan at the Vitalis / U.S. Olympic Invitational in the Meadowlands 2-plus hours later.
Coghlan paused. "Oh, about 3:30," he said, but his thoughts seemed elsewhere. "I think I interrupted him," said Flynn afterward. "He said he was writing or something."
What Coghlan had written down was brief but pithy:
57.4
58.5
59.1 (2:55 at 3/4 mile)
54-second last lap
These were the splits he planned to run in Sunday's race, and he didn't dare mention them to Flynn, a close friend but an equally close rival who took away Coghlan's Irish national records last summer in the Mile and 1500 meters. After hanging up, Coghlan totaled the figures he had written to make sure that they added up properly: 1:55.9 at the half-mile, 2:55 at three-quarters, 3:49 at the finish. He tore the top sheet off the note pad and placed it in a gym bag with his training diary. The splits, it would turn out, were just about dead on.
Coghlan had vowed weeks earlier, following the unexpected death of his father from a heart attack, that he would break the world indoor record of 3:50.6 he had set in San Diego in 1981. "I want to do it for my dad, and for my coach, Gerry Farnan, who died last May 4, and for Jumbo Elliott, my college coach at Villanova, who passed away two years ago," said Coghlan, who was injured for the indoor and outdoor seasons last year. Toward that end, he had raced and won three times since returning from his father's funeral in Dublin, beating Flynn twice and American indoor & outdoor record holder Steve Scott three times. In San Diego on Feb. 18 he had run 3:53.1, the 9th-best indoor clocking ever, which hinted that his mark might fall soon. But in fact Coghlan had a goal more important than merely breaking the record. "I want to be under 3:50," he said.
Although Coghlan had been voted by writers and statisticians as history's best indoor Miler last year, he hadn't achieved his three main goals in running: winning an Olympic gold medal—he twice has finished fourth, in the 1500 in 1976 and the 5000 in '80—setting an outdoor Mile world record and breaking 3:50. Ten Milers have gone under that mark a total of 27 times outdoors, but Coghlan had never bettered his 3:50.6 indoor WR. "Even at San Diego, when I broke the record," he recalls, "well, I had already set the indoor Mile standard once. I was quite disappointed. All I could think of was how close I'd come to 3:50. So close, and yet so far."
What Sunday's meet offered Coghlan was a different sort of closeness. Eamonn, his wife, Yvonne, and their two young children live in Rye, N.Y., only 27 miles northeast of the Meadowlands, and Eamonn looked at the Olympic Invitational, as he did the Mobil / USA Indoor Track & Field Championships that preceded it on Friday night in New York, as almost a home meet. Nevertheless, after winning the Mile in a disappointing 3:58.5 on Friday, he decided he wanted no household distractions. On Saturday night he drove to a Secaucus, N.J. hotel and checked in. "Yvonne's aunts were here from Ireland," Eamonn explained. "I figured I would have had to stay up and be sociable."
Instead he slept a full 13 hours, got up and went to check out the Byrne Arena track. He jogged around it in street clothes and boots, finding a few loose boards and pointing them out to workmen. "How does the track feel?" someone asked. "It feels great in cowboy boots," Coghlan said. Coghlan had served as a consultant when the track was designed and built in 1981, and he had maintained a special interest in it. "Last year I ran on it a couple times before I was hurt, and I noticed a problem on the turns," said Coghlan. "They weren't a continuous arc. There appeared to be a four-or five-foot straightaway right in the middle of them." His written report on that shortcoming had led to the removal of those straight sections, which in turn had encouraged Coghlan about his chances for a record.
Continue reading at: sportsillustrated.com
Indoor Mile world record progression HERE.
Below is the thrilling video with the spot on world record call by BBTM supporter Larry Rawson.