He had the Time of His Life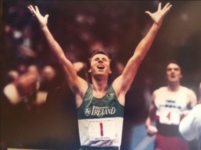 March 07, 1983
In the season finale, Eamonn Coghlan lowered his indoor Mile record to 3:49.78: "All I could think of was my coach Gerry Farnan and my father. I was saying, hey, this is for you guys."
By Craig Neff, Sports Illustrated
Eamonn Coghlan lay in his New Jersey hotel room early last Sunday afternoon jotting down numbers on a tiny message pad when the phone rang. It was fellow Irishman and Miler Ray Flynn. "What time are we going over to the meet?" asked Flynn, who would be racing against Coghlan at the Vitalis / U.S. Olympic Invitational in the Meadowlands 2-plus hours later.
Coghlan paused. "Oh, about 3:30," he said, but his thoughts seemed elsewhere. "I think I interrupted him," said Flynn afterward. "He said he was writing or something."
What Coghlan had written down was brief but pithy:
57.4
58.5
59.1 (2:55 at 3/4 mile)
54-second last lap
These were the splits he planned to run in Sunday's race, and he didn't dare mention them to Flynn, a close friend but an equally close rival who took away Coghlan's Irish national records last summer in the Mile and 1500 meters.
Continue reading at: sportsillustrated.com
Below is the thrilling video with the spot on world record call by Larry Rawson.