HOKA ONE ONE New Title Sponsor of State Street Mile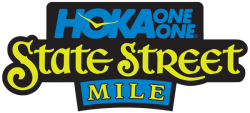 April 21, 2015
16th edition slated for Sunday, June 7, 2015 also features an event record prize purse; race proceeds go to District Attorney's Crime Victim Emergency Fund
SANTA BARBARA, Calif. – The State Street Mile, to be held in beautiful downtown Santa Barbara on Sunday, June 7, has a new title sponsor, HOKA ONE ONE, a revolutionary shoe brand that has expanded beyond the ultra and trail running world to the mainstream running market.
"We welcome and thank HOKA ONE ONE as our title sponsor, and together, we will make our 16th edition our best event yet!" said race director Megan Rheinschild. "On June 7, we look forward to seeing everybody, humans as well as dogs, enjoying the HOKA ONE ONE State Street Mile."
Race day kicks off at 8:00am with seven age group categories (14 & under, 15-19, 20-29, 30-39, 40-49, 50-59, 60-plus) followed by the popular Family Fun Mile, the Elite Miles and capped off with the not to be missed, tail wagging fun, Dog Mile, the unofficial world championship.
An event record guaranteed prize purse of $5700 will be awarded (Open and Masters 40-plus age-graded) plus $1000 for Open course records (3:49 – men and 4:33 – women). The event is again part of the local SBAA Grand Prix and Junior Grand Prix Series.
On Saturday, June 6, there will be event registration and bib number pick-up available at Santa Barbara Running Company from 11:00am to 4:00pm (downtown, 110 Anacapa Street). Also at 7:00am race day, bib number pick-up and registration starts at Pedregosa and State Streets in Santa Barbara. All proceeds go directly to the District Attorney's Victim-Witness Assistance Program's Crime Victim Emergency Fund.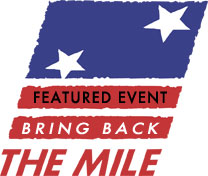 The HOKA ONE ONE State Street Mile, featuring a gradual downhill, point-to-point course, is also a Bring Back the Mile Featured Event, showcasing the best Miles in America and throughout the year.
To register or for more information, go to: www.sbmile.com
2015 HOKA ONE ONE State Street Mile Prize Purse
MEN
1) $1000
2) $750
3) $500
4) $250
$1000 course bonus (3:49, Michael Coe, 2013)
WOMEN
1) $1000
2) $750
3) $500
4) $250
$1000 course bonus (4:33, Melissa McBain, 2005, and Tara Erdmann, 2012)
MASTERS MEN (40 & older)
1) $175
2) $100
3) $75
MASTERS WOMEN (40 & older)
1) $175
2) $100
3) $75
About HOKA ONE ONE
HOKA ONE ONE, a Deckers Brands company, is the fastest growing, premium running shoe brand in the world. Two life-long runners launched HOKA in 2009, after years spent handcrafting and shaping lightweight shoes with extra-thick midsoles. Initially embraced by ultrarunners because of their enhanced cushioning and inherent stability, HOKA now offers shoes for all types of runners who enjoy the unique ride the shoes provide. For more information, visit: www.hokaoneone.com