Houlihan enjoying pro career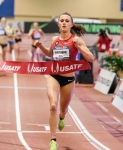 March 08, 2017
Sioux City native and rising star convincingly wins two USA Indoor titles: Mile & 2 Mile
By Terry Hersom, Sioux City Journal
SIOUX CITY -- Less than a month past her 24th birthday, Shelby Houlihan is clearly to Sioux City women's track & field what Kirk Hinrich became to local basketball.
The word is "incomparable.''
Not that Houlihan hadn't already earned that status by reaching the 2016 Olympics just a year after finishing up a sensational college career at Arizona State University.
To be fair, a championship double at the USA Track & Field Indoor Championships, which concluded Sunday in Albuquerque, wasn't even really Shelby at her best. And, those two national titles weren't seriously challenged in races she won in convincing fashion.
Houlihan, actually, may never actually realize her "best,'' but that's only because she refuses to accept any limits on what she might achieve.
Continue reading at: www.siouxcityjournal.com